Thu, 02/03/2011 - 16:51
I saw the most adorable picture on the Today Show of newborn babies in Pittsburgh wrapped in Steelers Terrible Towels, and it got me thinking. Some fans really are die-hard, all or nothing, fanatical fans from the cradle to the grave.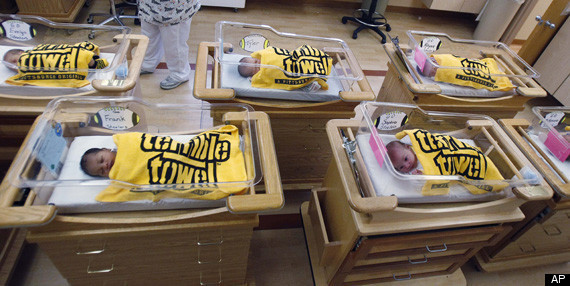 I've never had a team that I felt this way about. If I were to have been raised with any one die-hard team, it would have been Texas Tech considering both of my parents and my grandfather attended the school, but these days, I'd rather root for UT. The Cowboys used to be the it team when I was younger, but those glory days have passed. I do love the Orlando Magic, but I wasn't with them since their beginning nor mine. And the Mavericks? I hate to say it, but it's mostly about Dirk for me. (::swoon::)
I've heard that people in Green Bay put their unborn children on the waiting list for season tickets to Lambeau Feild. What is it like to have a team that's so ingrained in your blood that you'd take a bullet for them?
PS: I LOVE that Visa commercial with the Never Missed a Super Bowl Club! How cool is that?
*Image from Huffpost.com