Mon, 11/16/2009 - 17:21
Previously, I talked to Alexis about hoops. Now I talk to her "bff", Colleen Burns. I've actually been talking to Colleen for a while now on Twitter, that evil networking thing. And then I think she offhandedly mentioned about wanting a guy that likes basketball. So I asked her hand in marriage. The rest is history.
I have yet to get Colleen a ring. Or a Twitter ring. Whatever. But what we have instead is a nice conversation about the NBA and what she thinks about it in her pretty little head.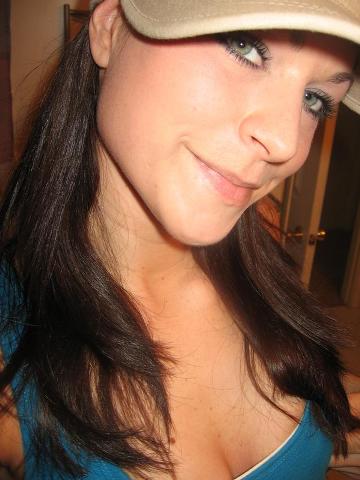 I shouldn't call her little. Colleen is taller than me. On with the conversation. I'm in green and Ms. Burns is in blue.
Brian, stay out of this. Actually, he's probably not even listening to me.
Hey, Colleen,
I like your E-Mail name. It makes me feel so happy. Plus you have that sparkling smile on your Twitter avatar. No wonder I asked for your hand in marriage.
That's how this whole mess got started. Then this Brian guy interfered. Wait. I'm doing him a favor by even mentioning his name. But let's talk hoops because that's what this conversation is all about. I think. Yeah.
So from what I can understand, you're actually a Philly chick. Seems like you also root for two teams like your bff, Alexis. Philadelphia and Orlando have a chance of colliding. Who would you root for then? Are you a Philly girl at heart? Or are you all about Florida now?
So who is your favorite player? Is it Dwight Howard? Is it J. J. Redick? Do you base your favoritism because the player is good-looking or is it because he's got skillz?
I understand that you are 5′10″. I saw your pictures taking a break while playing ball. I know I challenged you one-on-one… is your game more like Dwight Howard or J.J. Redick? To tell you the truth, you'd probably beat me one-on-one. I was never a good one-on-one player and I'm a good three inches shorter than you. I have a decent shot, I guess… but the reason why my blog is called The No-Look Pass is because… I love throwing No-Look Passes to teammates. Now you know… and you're the first person I told. Anyway, you'd post me up all game long. Not that I mind.
I almost want to bet you something if the Finals end up being Orlando and the Lakers. But then again, I've never been good when it comes to betting. I somehow end up losing even if the odds are in my favor.
So reply back anytime. Tell me why I should talk to you more than Alexis. Or maybe Paige. Whoops. Sorry, Paige.
yours,
Rey-Rey
Hmmmm i like the info share on the blog, however, maybe spice it up a lil more, not just pure text (just a suggestion)
Thank you, I have had this email for years, it is named after a poem i wrote a long time ago…coax me and you may get me to let u publish the poem on your blog ;o)
Brian did show up outta nowhere but this is all fun now, and bring on the BBALL!!!
Hmmmmm Philly/Orlando. TOUGH call…this is how i justify my decision. I always wear my red pumps and sixers t-shirt under my nelson jersey. I root for the magic but still back the sixers. I love them both. I think that wearing my nelson jersey since he is from west chester and went to st. joes in philly, it is kinda rooting for both. HOWEVER, if you asked me who i would want to win in the playoffs…im gonna say i would love to see a close series but would love the magic to walk away the winner. (the sixers' time will come …..just wait till i move back PHL PLEASE! I died while the phillies took it home without me!!!!)
OK so you realize u just told everyone why you are called The No Look Pass right? OK, just checkin'! I would say I am more of a Turk than a DH or Redick. I love the pull up, i have my on and off moments, i love being clutch. I am DH in the fact that i LOVE to rebound, offense and defense. I am JJ in that I love to take 3 pointers. However, I would still stick with Turk in that I am probably a little more pompous that I should be, and I love to talk shmack!!! ;o) When you pop a shot, i'll scream, when you have the ball, i will talk to you and when you drive I will yell! ;o)
@ColleenBurns 2009 NBA Finals Predictions Magic/Cavs, LAL/Spurs – MAGIC/LAL – MAGIC 2009!!!!!!!!!!!!!!!! (and not to suck up too much but please view my newest favorite bball/workout tee: http://twitpic.com/3cb11 ) Just sayin!!!
You should talk to @Alexiskn and @paigeiam equally – we are amazing women who love bball, we deserve equality ;o)
There are really only two plays: Romeo and Juliet, and put the darn ball in the basket. ~Abe Lemons
Word!
@ColleenBurns
(Her signature was somehow obnoxiously huge on her E-Mail.)
What's up, Colleen?
Are you talking about the profiles that we have up on the blog? It's hardly finished. But thanks for the suggestion!
Actually, it's funny that you mention Brian and poetry… but Brian actually wrote a poem for my blog a while back. For some reason, she put a picture of Carrie Underwood along with the poem but I'm not going to complain. It's Carrie Underwood. She's scorching.
So you'd choose Orlando over Philadelphia then? Or is it only because Orlando just has a much better shot at the title than Philly does? Because you mentioned that "their time will come" so I assume you think Philly is still pretty far away from the title. I'm sorry that the Phillies won without you being there. I have a friend (a chick, in fact!) that's also from Philly… and she was so stoked when the Phillies won. And she would've been doubly stoked had the Eagles won the Super Bowl.
Yeah, I realize that these E-Mails will be published… but, see, I told you personally FIRST about why this blog is called The No-Look Pass. THEN the whole world will know… all five of the people that read this blog. And did you just say that I'M CALLED The No-Look Pass? Ha ha.
It's funny because I'm actually quiet on the court… but I'll talk back if someone is talking. We would have an epic one-on-one battle… if this were just about talking. And maybe it's because I can be pretty hard on myself… but you would win this one-on-one game. My game is predicated off of using my teammates (again, No-Look Pass). In fact, I played three games today and I only scored about two or three buckets. But maybe I averaged about five assists per game. I'm a pass-first kind of guy. You would LOVE being in my team. I would give and you would receive.
But my knee has been killing me all day. Wish you can nurse me. Ha ha.
Anyway, so you'd pick the Magic and Dwight Howard's six shoulders over the Lakers. I can't say that's far-fetched… but the Magic has a difficult road to the Finals… especially since your boys are hurting. If they do go to the Finals, we may have a potential bet here. But let's watch the first few rounds of the Playoffs first.
Saw your workout tee. I almost fainted.
And believe me; you, Alexis, and Paige will get equal time. In fact, so will the others who are suddenly on board for this, too. It would only be better if y'all live in the L.A. area.
passin' it back to you,
Rey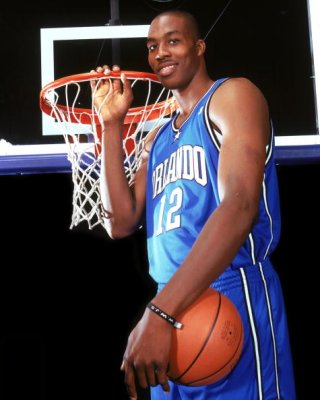 Yo-Yo Rey-Rey,
Sorry it has taken me some time to get back to you, I have a new role at work PLUS bball practice PLUS sleep PLUS eating, my bad! I will work on my punctuality in returning emails. I wish I had more time to tweet too, I feel like I am missing everything during the day and it's hard to re-track at night. Twitter Whores!!! =)
I would choose Orlando over PHL because I have spent the past 4 years going to the games and just falling in love with my Magic. They have this essense about them that is just so welcoming and easy to be a fan of. Their community service alone is amazing. I think we have the most down to earth team around these days. Dwight Howard is just so amazing to watch with his power and skills and he has a smile on his face 99.8% of the time. You can just see the excitement and joy that each of our players bring to the court. I know it's lame but I think it's true. More of a family than money grubbing ballers. However, PHL is not the opposite of what I think Orlando is, however, they have their bumps. I have stayed a fan through all the changes and love me Iggy =) I will never stray far from my roots in PHL so i rep no matter what the stakes…however…Orlando is just above them because of the passion i have grown for them. Plus Jameer Nelson is still my tie on Orlando back to PHL! See…i don't stray far!
And yes, @alexiskn and I refer to you as The No-Look Pass – She will be like, did you see what The No-Look Pass said yesterday? LOL Ahhhh twitter life!
How nice of you to be an assister, that is a great thing. I am 50/50. I don't know if I would beat you, I guess we will just have to wait and see. However, last night everyone was telling me to stop yelling cause I was even scaring the people on my team. OOPS! Sometimes I just can't control it!
I am a great nurse!!!!!!!!!! FYI! I'd even put on a nurse outfit if desired! ;oP Truth!
I think my Magic will come out straight ballin' in these playoffs…don't let the last few games fool you, we had a ROCKIN' season. The Cavs scare me though!
I heart my LA shirt, thank you! I am in search of old school bball tees for sure. I still have mine from Highschool!!! =)
Livin' in LA would be amazing. I have been there 2 times in the last 2 years so I'm sure I'll be back soon…………suggestion: PRACTICE!
LOL
Word
@ColleenBurns
You guys think she can beat me one-on-one? When I'm healthy, that is. I'm going to get my knee checked now. No, it's not because she crossed me over. Online. Ha ha.
If it does turn out to be L.A. and Orlando in the Finals, we may have very interesting conversations. Know what 'um sayin'?
Follow me on Twitter. The name is @TheNoLookPass. And if you like, you can follow Colleen as well. Her name is @ColleenBurns.